Communication equipment ・ Aero space defense
Precision parts such as semiconductors, Metal parts ・ Processing

April 2019

Exhibited in Hannover Messe, Germany
April 2018

Exhibited in Hannover Messe, Germany
May 2017
April 2017

Exhibited in Hannover Messe, Germany
March 2017
March 2017

We renewed our website
5-axis machined complex shaped parts
We handle trial manufacture and development of diverse products, with a focus on aluminum precision parts for sectors such as communications, defence, aerospace, and semiconductor related.
Our particular area of expertise is the trial manufacture of complex shapes using 5-axis and 5-face machining. We willingly tackle processing that requires a high level of technical skill and may be considered difficult by other companies, and we provide support for speedy start-ups.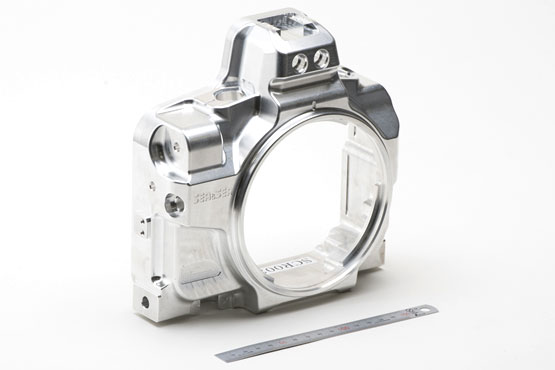 51 NC machines operate around the clock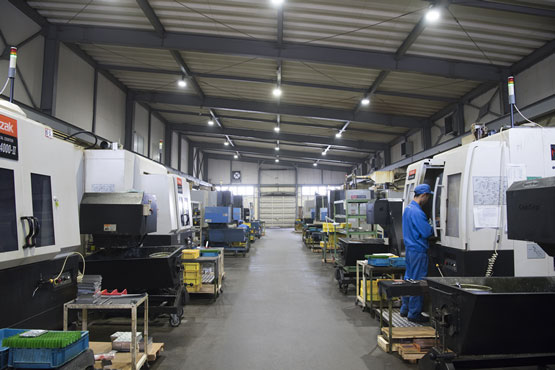 Our engineers work in a shift system to keep our factory in operation around the clock.
If we are provided with blueprints and CAD data for new projects, we arrange the set-up during the day and do the processing during the night shift, making it possible to greatly reduce lead times.
We can also respond swiftly to requests for repeat orders.
Our wide range of equipment and 51 NC machines operate around the clock, enabling us to offer earlier delivery dates and shorter lead times.
From development to trial manufacture and mass production, we can offer highly-competitive and speedy delivery dates.
Quality control system for stable high quality
We not only perform thorough quality control before shipping but also check cross-section quality on the factory floor.
Three-dimensional measuring instruments are located not just in the Quality Control Department but also near the manufacturing sites, enabling us to perform sampling inspections, cross-section tests and other checks.
In addition, we have installed an ultrasonic vacuumed degreasing cleaner that makes it possible to clean minute holes and taps so that we can provide our customers with high-quality products.
We have also introduced a proprietary production control system with which we meticulously control production and manage delivery dates.